Leaning greenhouse Viola III
Aluminum construction with 16 mm ISO hollow panel, dimensions Viola II: 3.09 m depth, 3.10 - 6.13 m length, wall connection height 2.60 m, eaves height 2.10 m, a sliding door with cylinder lock, large Rain gutter incl. Aluminum downpipes as well as a sealing profile set, one or two roof windows (depending on size), incl. Automatic window regulator.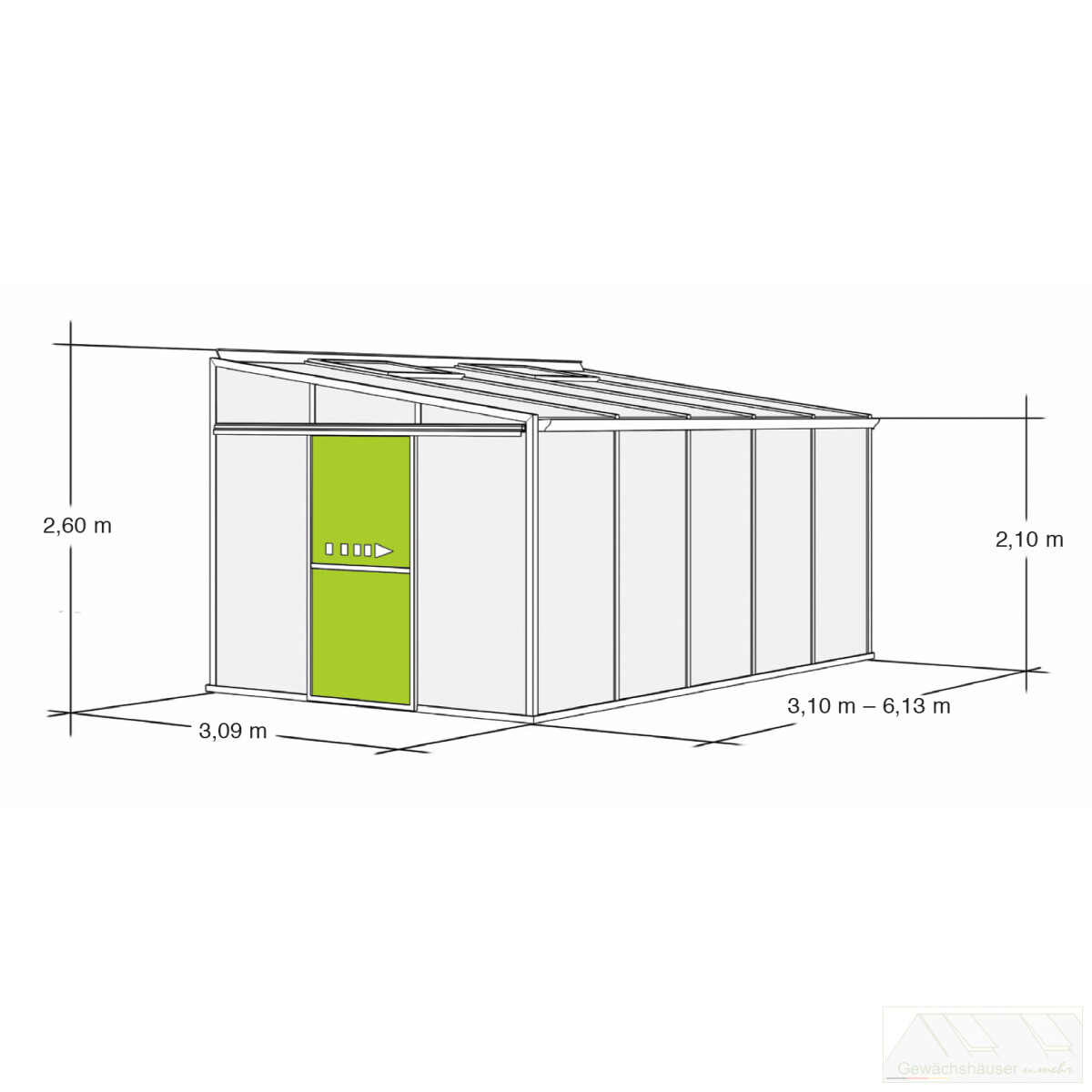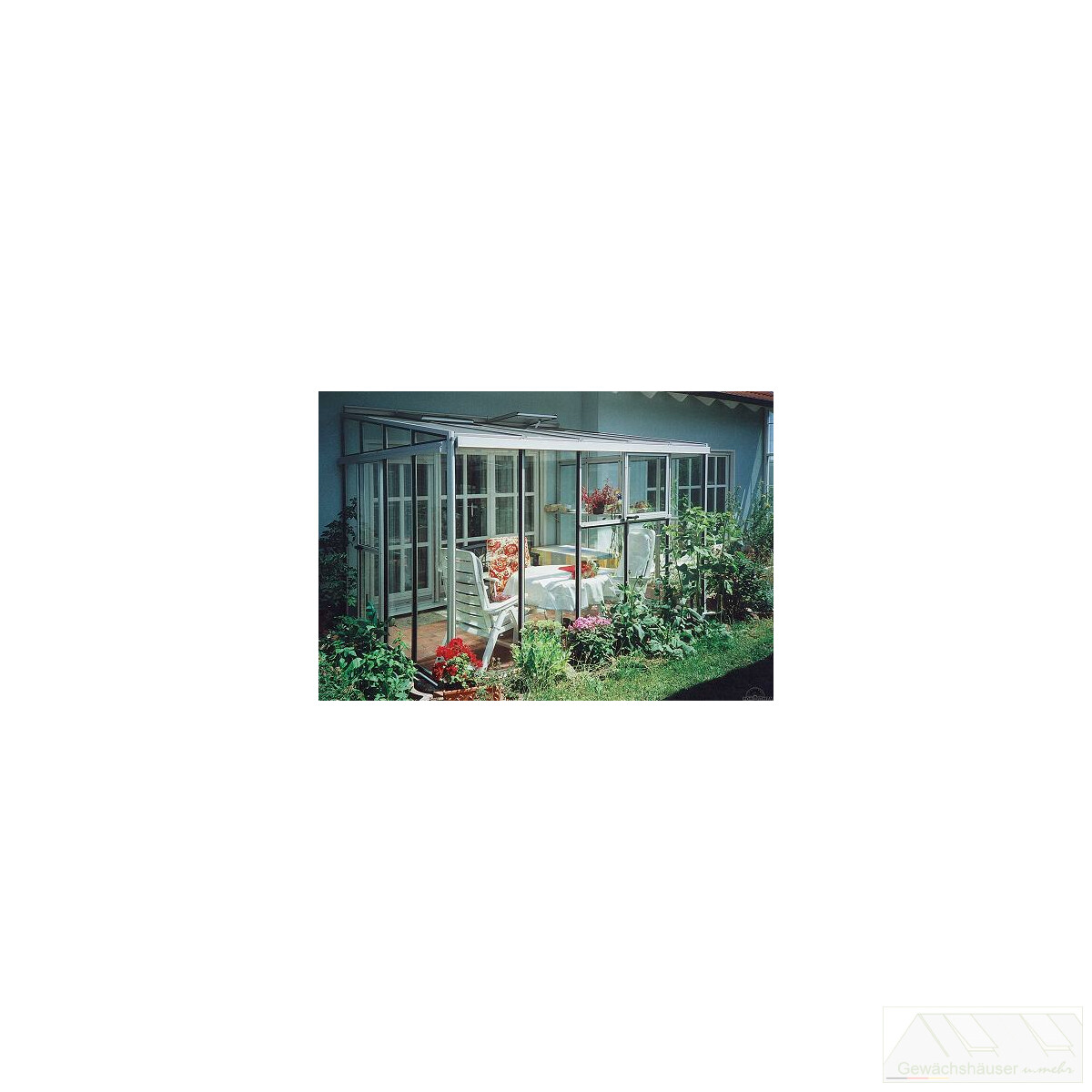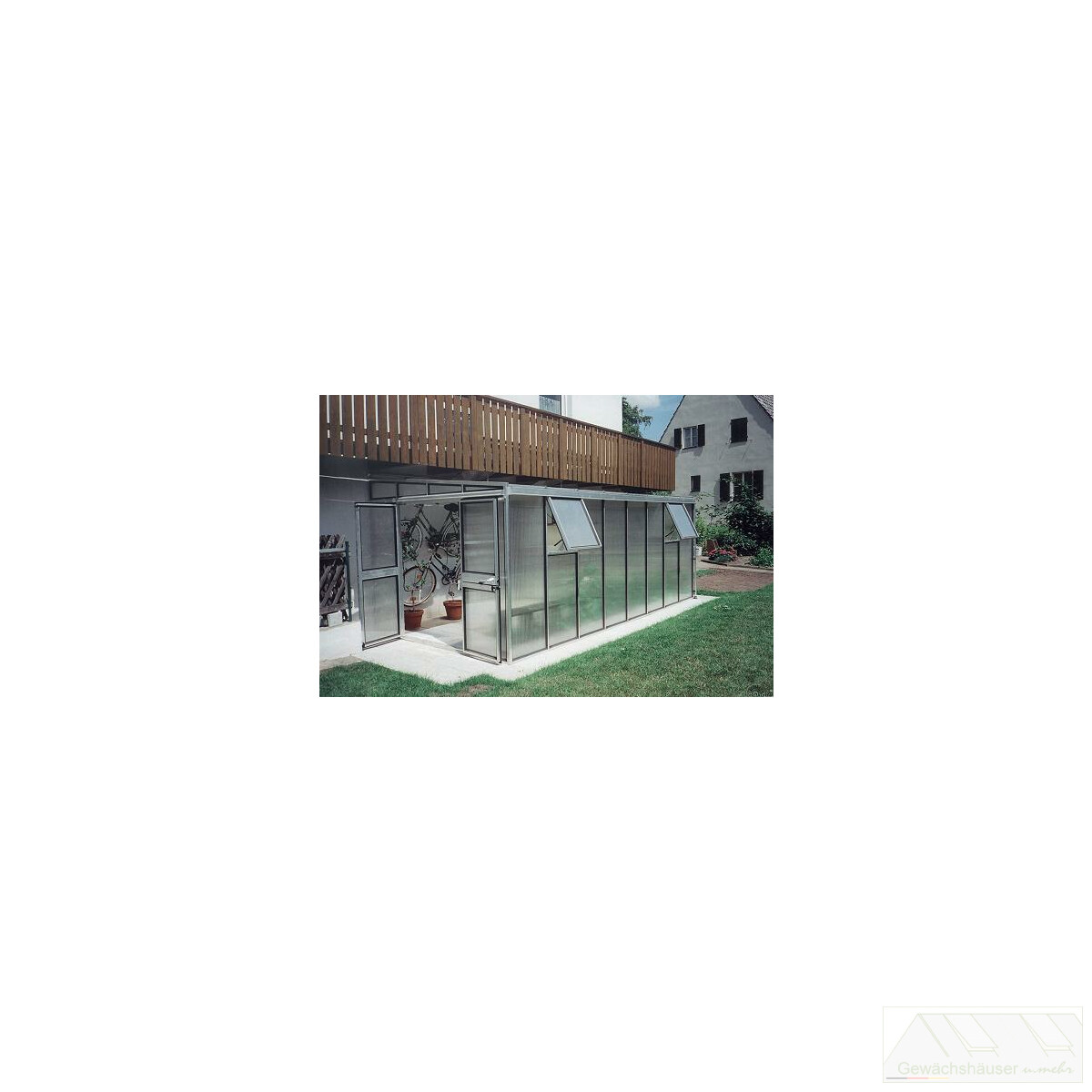 The leaning greenhouse model Viola is attached directly to your house, outbuildings, garage or wall and thus very space-saving with plenty of space and light for your plants!

Because of the proximity you have the opportunity to directly track the growth of ornamental plants, the degree of ripeness of your fruits such as tomatoes or cucumbers . Of course, you can also use the beautiful extension greenhouse Viola as a terrace roofing and thus enjoy your garden outside in all weathers.

Due to the pleasing shape, the Anlehnhaus Viola fits in visuallyYour living environment perfect. The house wall serves as a heat buffer, during the day it heats up and in the evenings it returns the heat to the Anchor Greenhouse Viola . Your plants, fruits and herbs thrive faster and safer in these optimal growth conditions than is possible in the wild.

Anlehn greenhouse Viola is a beautiful and timeless Anlehnhaus made of very high quality, stable aluminum profiles. Depending on the type (size) integrated roof windows with automatic windows and a sliding door (about 93 cm wide) with cylinder lock. The delivery includes a large gutter with aluminum downpipes soas well as a sealing profile set. The glazing in the roof area with 16 mm thick ISO hollow panel panels, side glazing also with 16 mm ISO hollow panel panels. The construction consists of high-quality, stable aluminum profiles powder-coated to DIN 17611 (RAL 6009).

For an additional charge, glazing with 16mm SDP (double-skin sheets) Plexiglas "Alltop" is possible.
model
Leaning greenhouse made of special aluminum profiles,
RAL 6009 (fir green)
Model Viola Type III
dimension
approx. 3,09 x 3,10 to 6,13 m (T / W x L),
Eaves height 2.10 m,
Wall connection height 2.60 m,
Area from 9,10 m² to 18,20 m²
Volume from 22.5 m³ to 44.2 m³
standard Features
one or two (depending on the size) skylight incl. power windows
Window and door pre-assembled and glazed with ISO safety glass (16mm)
Smooth sliding door, approx. 93 cm wide, positioned in a gable
Glazing with 16 mm ISO hollow panels
large gutter incl downpipes made of aluminum
Sealing kit
Kit with detailed installation instructions